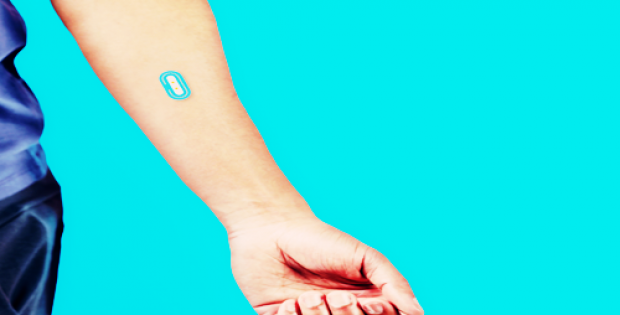 L'Oréal is committed to investing in technology and the latest wearable tech can be used by dermatologists to access patients' skin conditions and create skin health plans.
L'Oréal, the French multinational personal care company (reportedly the world's largest cosmetics company) recently at CES introduced its latest wearable prototype that is designed to detect skin pH levels.
Wearers of the device can be empowered by the data provided by the device learn what is best for their own skins. Apparently, unstable skin pH levels can cause inflammatory skin conditions such as dryness or eczema.
The device comes with two dots that change color on the completion of the process of pH level detection. The wearer has to place the device on the inner arm for 5 to 15 minutes or till the dots change color. Next the My Skin Track pH app has to be opened on a smart phone and the pH level will be analyzed by the app through a picture taken of the dots. Sweat biomarkers such as glucose, chloride, lactate, pH, sweat rate and sweat loss are detected by the dots and the app is designed to process what it sees through the photo. It also measures how much the user is sweating and makes appropriate product recommendation.
At present L'Oréal has not made it clear whether the wearable sensors will be reusable. According to an official statement by the company, such details will only be ascertained once My Skin Track pH moves beyond the prototype stage. No price for the device has yet been announced and My Skin Track pH would be officially made available to select dermatologists later in 2019. On further development, the device will be shipped directly to consumers.
L'Oréal has been reported to say that skin that is too alkaline tends to be dry and flaky. Most people can detect such obvious dryness and take appropriate skin care to adjust the pH levels of their skin. The new device is designed for doctors and users who are interested in understanding skin activities and reactions on a deeper level. However, according to experts, such devices can make users obsessive about skincare and sell more products for L'Oréal.